35+ Years of HIV/AIDS: a Timeline
The story of HIV/AIDS is one of people coming together to fight against extraordinary odds. As (RED) helps contribute to an HIV/AIDS-free future, it's important to look back on how far we've come — and how far we still have left to go.
1980's: AIDS Emerges
In the world: Sandra Day O'Conner takes her seat as the first female justice of the Supreme Court of the United States; Egyptian president Anwar Sadat is assassinated during a parade; Edict No. 81-234 abolishes slavery in Mauritania; England's Prince Charles marries Lady Diana Spencer.
In music: Simon & Garfunkel perform a free reunion concert in New York City's Central park that draws over 500,000 fans; U2 makes their first U.S. television appearance.
In sports: The South African Springbok rugby tour travels to New Zealand and the United States amidst widespread protests over South Africa's continuation of apartheid; Boxer Muhammad Ali fights his final fight.
1981: a new disease makes headlines
In 1981, the state of the world's health was on the brink of monumental change. The final stages of an unidentified illness began to draw serious attention, and AIDS was officially recognized as a distinct disease in the U.S. when young, previously healthy men started appearing in hospitals with a rare lung infection. Because the men were homosexual, doctors guessed that the cause was a severe immune deficiency somehow connected to the "homosexual lifestyle". By the end of that year, there were 270 confirmed cases and 120 deaths.
1982: THE DISEASE GETS A NAME
Center for Disease Control (CDC) scientists coined the term "AIDS", which stands for Acquired Immune Deficiency Syndrome, in 1982. Researchers in the U.S. and France identified the underlying Human Immunodeficiency Virus (HIV) in 1983, but they were still unsure about how the virus was actually transmitted.
The disease began showing up among new populations: people with hemophilia, injection drug users and babies who had received post-natal transfusions. Those diagnosed with HIV/AIDS faced discrimination, and a lack of definitive information on the disease led to mounting fear-based stigmatization.
1983–1984: Advocates take a stand.
As discrimination towards those living with HIV/AIDS increased alongside news coverage, public health nurse Bobbi Campbell became a brave face of the movement, appearing on the cover of Newsweek with his partner, Bobby Hilliard.
There were many lesser-known names who helped build public awareness about HIV/AIDS during its first decade. One such advocate was Ryan White, an Indiana teenager with hemophilia, who spoke out about being blocked from his middle school after he became HIV+ through a blood transfusion.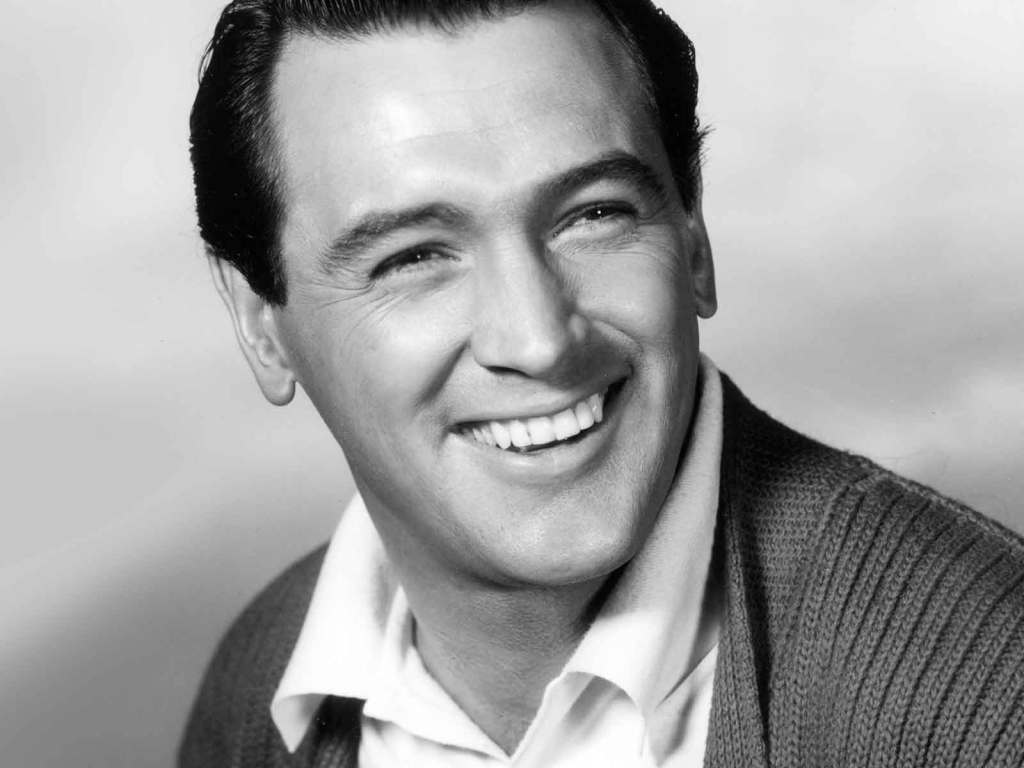 In 1985, Rock Hudson became the first American celebrity confirmed to die of complications related to HIV/AIDS, forcing the issue into the spotlight. The actor left $250,000 to AIDS research, establishing the American Foundation for AIDS Research.
1987: A SPECTRUM OF RESPONSES
After learning that over 1,000 San Franciscans had died due to complications associated with AIDS, activist Cleve Jones created the first panel of the AIDS Memorial Quilt, a tribute that would grow to cover the entirety of the National Mall in Washington. In the same year, academic Debra Fraser-Howze founded the National Black Leadership Commission on AIDS. Activists worked against a landslide of public fear and apathy in AIDS' early days, and U.S. immigration even banned people who were HIV+ from entering the country — a decision that lasted until 2009.
In the wake of this anxiety, England's Princess Diana famously took a different path by shaking the hand of an HIV+ man, without wearing gloves. Publicly challenging the misconception that HIV/AIDS was transferred by touch, Princess Diana demonstrated in a single gesture that the correct response to people living with HIV was compassion, not fear and ignorance.
By the end of the decade, the World Health Organization estimated that there were 400,000 cases of AIDS worldwide.
1990's: FIGHT FOR OUR LIVES
In the world: The Cold War ends with the fall of the USSR; Taiwan holds its first free congressional elections in four decades; in South Africa, black children are admitted to schools previously reserved for whites only; CERN introduces the World Wide Web to the public.
In music: Nirvana's Nevermind ushers in the era of Grunge; 2Pac releases his first studio album 2Pocalypse Now; Guns 'N Roses puts out a double album — over 150 minutes of music — containing rock epic "November Rain".
In sports: The 5th All-Africa Games are held in Cairo, Egypt; Basketball's Michael Jordan wins his first NBA championship.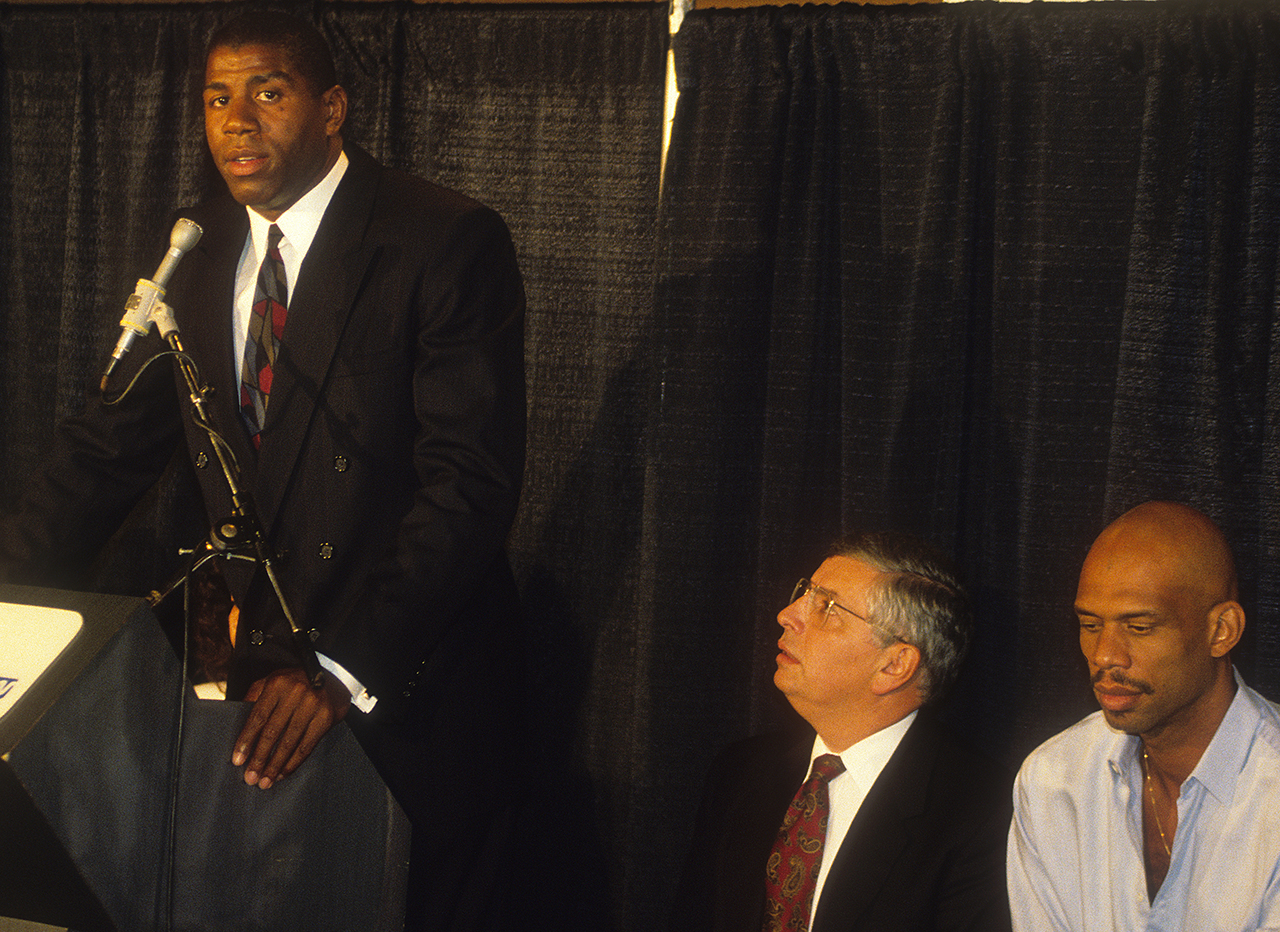 1991: AWARENESS ADDRESSES IGNORANCE
A decade after AIDS began making headlines, LA Lakers' point guard Earvin "Magic" Johnson made an announcement that shocked the world: he was HIV+. This ended the misconception that HIV/AIDS was only an issue in the gay community.
1996: A TREATMENT APPROACH IS UNEARTHED
Researcher Dr. David Ho began advocating for a "hit early, hit hard" approach — a treatment method that involved attacking the HIV virus as soon as it was detected with the most powerful medication available. This would later lead to Highly Active Antiretroviral Therapy (HAART), a more targeted approach based on the levels of the virus in a person's blood. This new standard revolutionized the treatment of HIV and freed many people living with HIV from the side effects of strong medication.
1997: INTERVENTIONS CAN'T STEM THE TIDE
New HIV infections per year peaked globally in 1997 with 3.5 million new cases estimated, despite the fact that deaths from complications related to HIV/AIDS dropped by 47%. Increased access to anti-HIV drugs was helping to control the progression of the virus among HIV+ people, but the transmission of HIV remained a massive problem.
2000's: Around the World
In the world: Over 100 fans die in a football stampede in Ghana; 2001 is overshadowed by the terrorist attacks on New York City's World Trade Center.
In music: Jennifer Lopez becomes the first female artist to have both a number one album (J.Lo) and number one movie (The Wedding Planner) in the same week; Apple introduces the iTunes media player.
In sports: John Ruiz becomes the first Hispanic to win the world Heavyweight boxing title; the 14th Mediterranean Games are held in Tunis, Tunisia.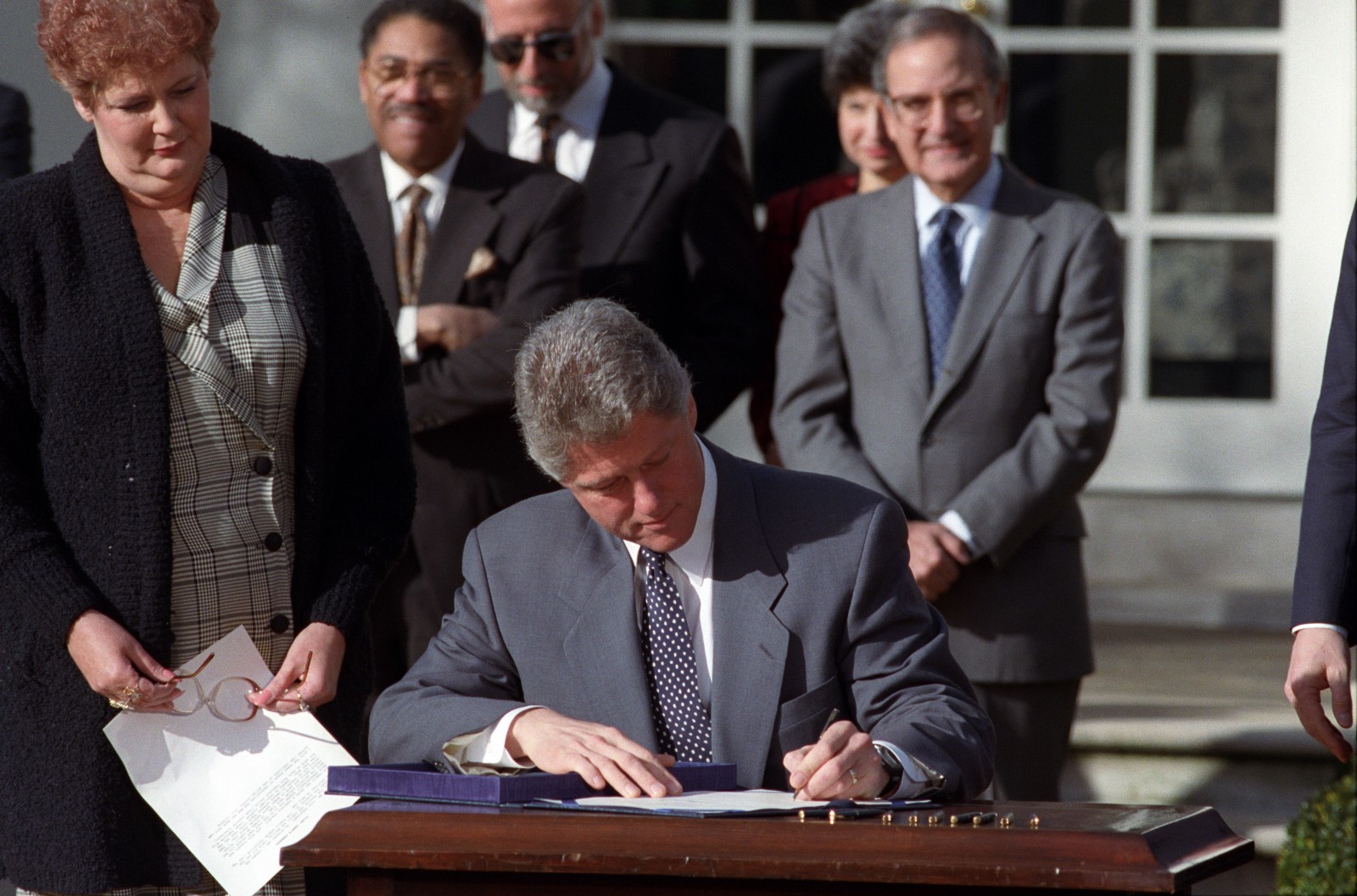 2000: A GLOBAL PERSPECTIVE IS PRIORITIZED
In 2000, the conversation around HIV/AIDS in the U.S. began to shift outward thanks to the Global AIDS and Tuberculosis Relief Act signed by then president Bill Clinton. This act saw the United States establish the World Bank AIDS Trust Fund for international AIDS and TB relief initiatives.
2002: FUNDING JOINS HANDS
Struck after discussions at a G8 Summit in Okinawa, the African Union Summit in 2001 and a United Nations General Assembly Special Session later that year, The Global Fund was formed in January 2002 with a vision "to achieve a world free of the burden of HIV, TB and malaria". The fund raises and invests nearly $4 billion a year in local-run support programs, and relies on partnerships between governments, civil society, the private sector and those affected to provide relief.
In Cape Town later that year, over 70 African AIDS activists from 21 countries met to inaugurate the Pan-African Treatment Access Movement (PATAM), an initiative dedicated to "mobilizing communities, political leaders, and all sectors of society to ensure access to antiretroviral (ARV) treatment as a fundamental part of comprehensive care for all people with HIV/AIDS in Africa".
"We are angry. Our people are dying," said PATAM co-founder Milly Katana. "We can no longer accept millions of needless AIDS deaths simply because we are poor Africans. We know ARV treatment is feasible in our countries and are launching a movement to demand ARV treatment that won't take 'no' for an answer."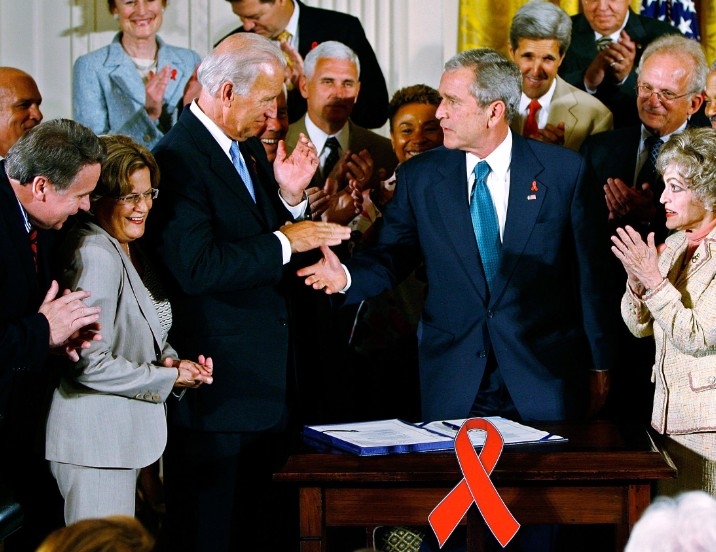 2003: THE UNITED STATES DIGS IN
2003 saw the creation of the U.S. President's Emergency Plan for AIDS Relief (PEPFAR), marking a significant increase in funding and attention towards HIV/AIDS. Established by George W. Bush, PEPFAR was conceived as a compassionate effort to deliver life-saving services in countries hit hardest by HIV/AIDS, and has expanded its mandate to include the challenge of controlling the pandemic.
2005: HIV CONTINuES TO IMPACT AFRICA
The death of Makgatho Mandela, son of South African president Nelson Mandela, drew attention to the issue of skyrocketing rates of HIV/AIDS in Africa. It was the first time an African leader spoke publicly about losing a family member to AIDS, despite there being 28 million Africans living with HIV.
"Let us give publicity to HIV/AIDS and not hide it," Mandela said, "because the only way to make it appear like a normal illness like TB, like cancer, is always to come out and to say somebody has died because of HIV/AIDS. And people will stop regarding it as something extraordinary."
Bono and Bobby Shriver founded (RED) to engage millions of people in the greatest fight of our time: to end AIDS in Africa, where two thirds of the estimated 37 million people with HIV/AIDS live. We began working with the world's most iconic brands and organizations to develop (RED)-branded products, with up to 100% of all money contributed by (RED) partners going directly to the Global Fund. These contributions are invested in HIV/AIDS programs in Africa, with an emphasis on countries with high rates of mother-to-child transmission.
While the United States ended a 22-year ban restricting HIV+ travelers from entering the country, many present-day nations continue to limit access, including Turks and Caicos, Egypt, Yemen, Qatar and Papua New Guinea.
2010's: Towards Eradication
In the world: An earthquake and tsunami hit Japan, sending seven-meter high waves inland and causing more than 15,000 deaths; after 18 days of pro-democratic protests, Egypt celebrates as President Hosni Mubarak steps down after 29 years in power; England's Prince William marries Kate Middleton.
In music: African groups making a splash in the west include Blk Jks and Bassekou Kouyate & Ngoni Ba; Liquideep wins Album of the Year at the South African Music Awards.
In sports: The NBA and NFL both experience lockouts; Kenya sweeps the London Marathon thanks to runners Emmanuel Mutai and Mary Keitany.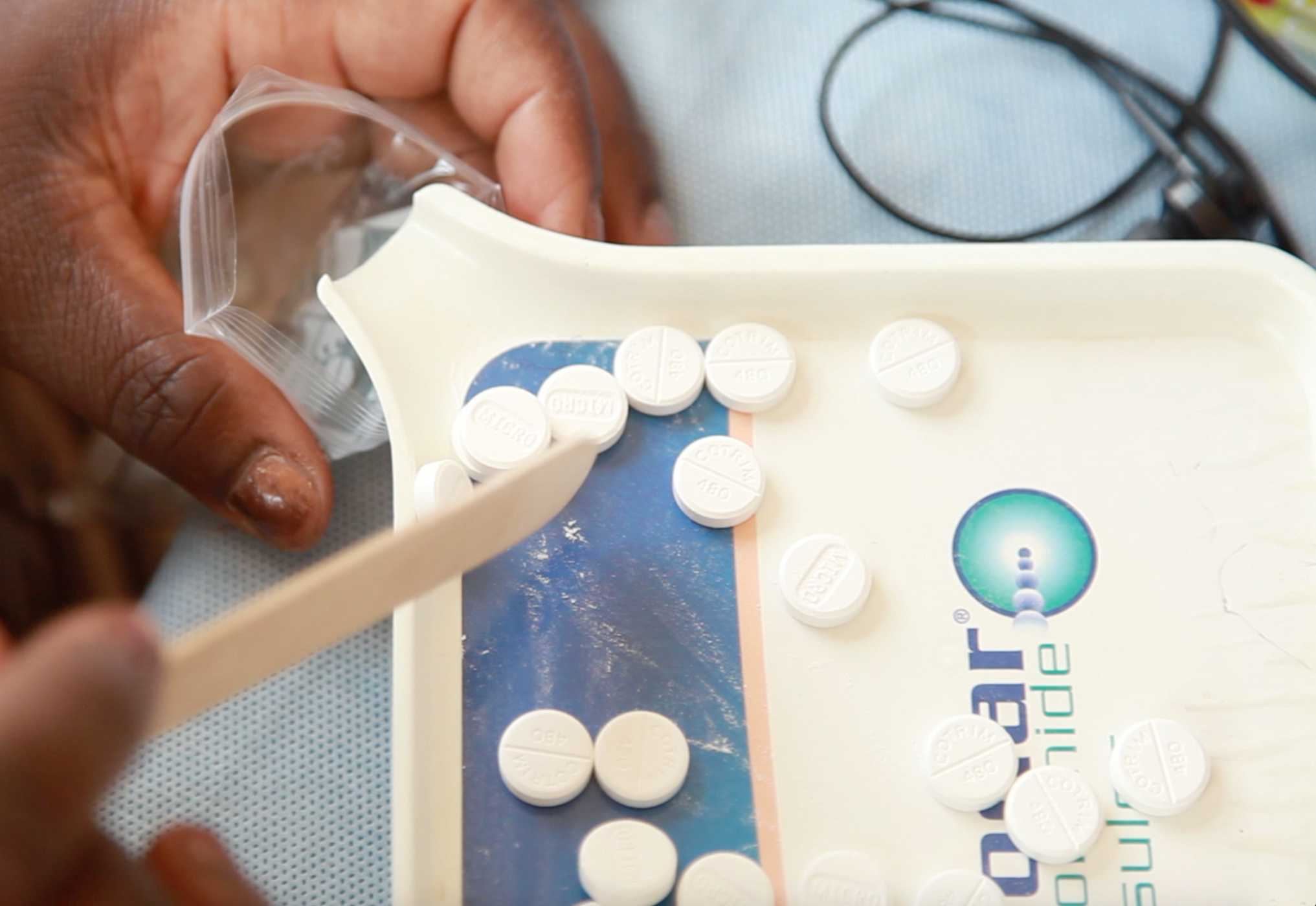 2011: AFRICA GAINS ACCESS
By 2011, more than half of all people living in sub-Saharan Africa had access to life-saving HIV treatment.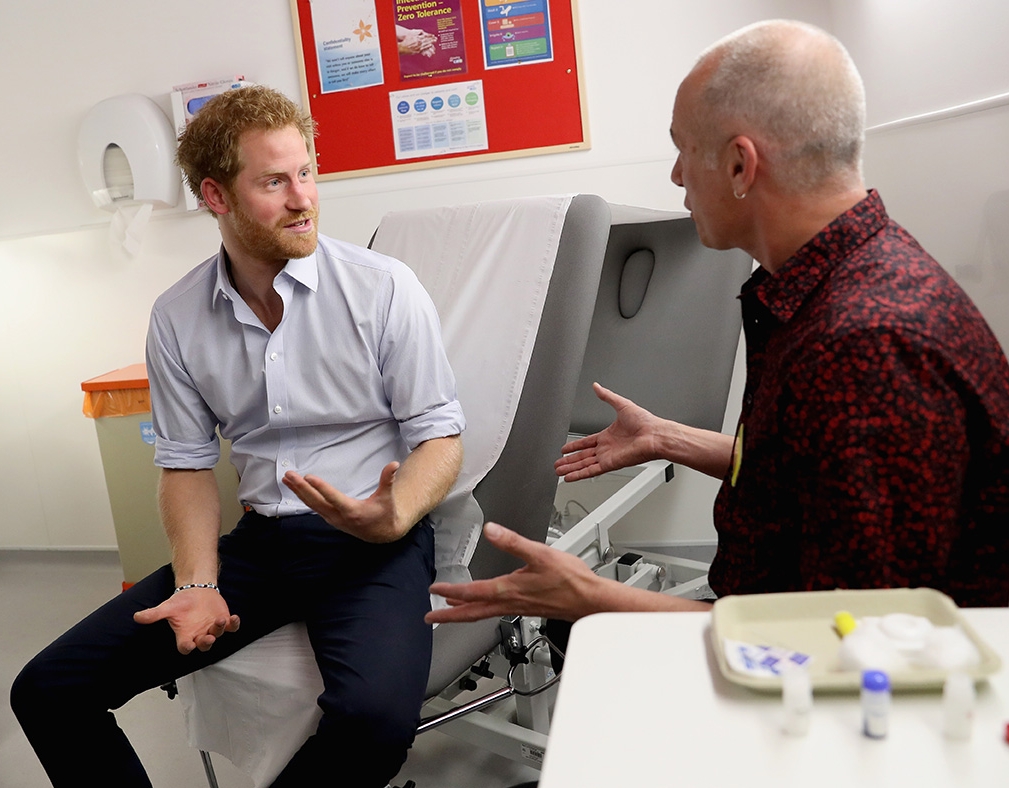 2016: TESTING GETS THE ROYAL TREATMENT
Years after his mother made waves by reaching out to an HIV+ man, England's Prince Harry battled lingering stigma around HIV/AIDS by taking an HIV test live on Facebook. The live stream gained over two million views, and resulted in a five-fold increase in self-testing kit orders from UK charity Terrence Higgins Trust. The Prince's participation was seen as a watershed moment in a country where one in six people living with HIV don't know that they have it.
"It is amazing how quick it is," His Royal Highness said of his experience. "So whether you're a man, woman, gay, straight, black or white — even ginger — why wouldn't you come and have a test?"
2019: The struggle continues.
Today, millions have access to medicine that helps keep people living with HIV alive and healthy, and prevents HIV+ mothers from passing the virus to their children. With regular treatment, a person living with HIV may live as long as someone without it — AIDS is no longer a death sentence.
But the disease still disproportionately affects vulnerable members of the world's population, especially those in developing countries. In West and Central Africa alone, 6.1 million people live with HIV, including half a million children.
To date, (RED) has raised over half a billion dollars for the Global Fund to fight AIDS, with a focus on providing medication to mothers living with HIV to ensure their babies are born HIV-free. (RED) aligns with UNAIDS in the ambitious 90-90-90 goal — by 2020, we're aiming to ensure:
90% of all people living with HIV know their status
90% of all people with diagnosed HIV infection receive sustained antiretroviral therapy
90% of all people receiving antiretroviral therapy have viral suppression